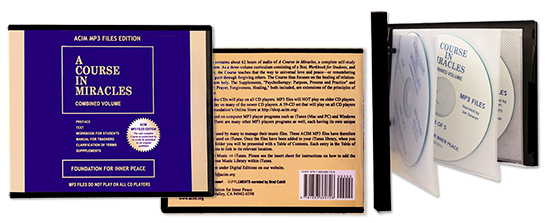 The Course 5-CD MP3 set contains 62 hours of audio of A Course in Miracles. This mp3-format CD set allows you to listen to the complete Course on your computer and on any MP3 player, including your tablet and smartphone. These CDs consist of the complete A Course in Miracles: Preface, Text, Workbook for Students, Manual for Teachers and Clarification of Terms. Also included on the CDs are the two Supplements, which are extensions of the principles of A Course in Miracles: "Psychotherapy: Purpose, Process and Practice" and "The Song of Prayer: Prayer, Forgiveness, Healing." Jim Stewart, an early Course student, narrates the three volumes and Brad Cahill reads the Supplements.
---
Sample recording of the Introduction to the Course
by Jim Stewart
---
Sample recording of the introduction to the Supplements
by Brad Cahill
---
These MP3 files have been optimized to be used on iTunes. It is therefore recommended that you use iTunes to access them. You can also listen to them on your computer or on any MP3 player, including your tablet and smartphone.
When added to iTunes these files will appear as folders under Music. When you click/double-click on one of the folders you will be presented with a Table of Contents that matches the Table of Contents in the printed books. Each entry in the Table of Contents links to its relevant location within the Course.
Instructions for adding these MP3 files to iTunes are included in the CD set.
---
Note: These CDs will NOT play on older CD players. They will, however, play on CD players with MP3 capability.
---
Contact Support
If you have any questions about this product please contact us via our contact form.
---
Also available on a USB (Flash) drive, the ACIM USB MP3 Audiobooks have the same digital audio content as the A Course in Miracles 5-CD MP3 Set.
---