"Let's Discuss"
Rolling in Laughter's Role in A Course in Miracles 
"Blow on it lightly and with happy laughter, and it will fall away. And walk into the garden love has prepared for both of you."
 (ACIM, T-18.VIII.13:7-8)
Thursday, August 17th, 2023
2 pm PDT / 5 pm EDT / 11 pm CET
(convert the time to your time zone)
¡Webinar con traducción simultánea al español! Haga clic en el botón registrarse para inscribirse en este webinar. Recibirá un correo electrónico en inglés con el enlace que debe usar para el webinar.
Registration for this event is closed.
Since we are told that God's son forgot to laugh—Let's remember to laugh in this "Let's Discuss" Webinar!
This webinar is for those of us who are struggling to laugh, for those who love to laugh, and for everyone in between. 
How does the Holy Spirit use laughter for healing in

A Course in Miracles

?

How do we find humor amidst fear and perceived atrocities?

Why is laughter so important throughout our applied practice of ACIM? 
Please join us in laughter during this LIVE Webinar on Thursday, August 17th!
"Where there is laughter, who can longer weep?"
(ACIM, M-14.5:6)
Thank you for your support towards our mission to discuss, publish and distribute A Course in Miracles which offers a roadmap to Inner Peace.
Your 100% tax-deductible gift will help: 
Offer webinars, podcasts, and events that give you an opportunity to practice and understand the Course.
Develop the ACIM Web Edition to provide online access to Course students all over the world.
Grow our translation program and continue to extend our global outreach.
Thursday, August 17th, 2023
2 pm PDT / 5 pm EDT / 11 pm CET
(convert the time to your time zone)
¡Webinar con traducción simultánea al español! Haga clic en el botón registrarse para inscribirse en este webinar. Recibirá un correo electrónico en inglés con el enlace que debe usar para el webinar.
Registration for this event is closed.
Registration closes at 2:00 pm so register early.  The webinar access link is emailed to registrants from Zoom.
All registrants will receive a recording 24 hours after the event. Closed captions and Spanish translations are available.
Meet Our Speakers
Maureen Muldoon is a storyteller, comedian, and teacher of A Course in Miracles. She is the author, an award-winning playwright, and an accomplished actress/producer in TV and Film. Maureen founded SpeakEasy Spiritual Community, a virtual community that honors Divine Mother and A Course in Miracles. She founded Miracles LIVE 365, a virtual community that supports members through discussion, discovery, application, and embodiment of A Course in Miracles principles. She believes laughter is God's favorite prayer and a sure road to awakening.
Jodi Murphy is president and owner of Murco Recycling Enterprises, Inc.– a recycling firm dedicated to the reuse of building materials. She is a mother to three grown daughters, and grandmother to three. Jodi is an avid Course student and member of the SpeakEasy Spiritual Community. She is currently in early retirement (or, as she terms it, early re-try-erment) where she is honing her skills in stand-up comedy, travel, storytelling, ballet, pickleball, tap dancing, and whatever else amuses her.
For the past 30 years, the beautiful wisdom of the self-study spiritual system A Course in Miracles has shaped Leon Russell's understanding of our shared experience here in this "happy dream." The multi-instrumentalist and singer-songwriter's lyrical expressions from his band Warmrain have spoken to the "Mind" of hundreds of thousands of listeners. Leon relates that the Holy Spirit guided him to step out from within the music in order to openly speak to the Course community, so he started a podcast called "May the Course Be with You," and has also been a recent guest on the Miracles Voices podcast.
After three decades as a student of A Course in Miracles, Laura Fenamore continues to learn Course principles and engages in her daily practice of moving away from the experience of fear and anxiety to deeply embracing the truth of "Teach only love, for that is what you are." (ACIM, T-6.III.2:4) Laura volunteered for Foundation for Inner Peace for many years before coming on staff full-time in 2019, and enjoys her roles as the Chief Development Officer and Volunteer Coordinator. She loves celebrating the volunteers as well as connecting with and thanking the donors who support the Foundation.
Tamara Morgan is the daughter of Judith Skutch Whitson and has participated with the Foundation for Inner Peace (FIP) since its inception, pioneering its special projects and initiatives formally since 1984. Tam met Scribes Drs. Helen Schucman and William Thetford in 1975 and she was close to them for the rest of their lives. It was through deep guidance and inner directive that Tamara stepped into her current position as President of the Foundation for Inner Peace.
Meet Our Spanish Translator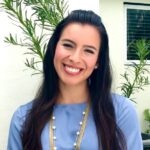 Veronica Mejia Barney was introduced to A Course in Miracles by her mother at the age of seven. As a child, she recognized the deep ancestral call that the book's pages transmitted. At 14, she began to practice the Course and embarked on a journey of studying and integrating its principles, which continue to guide her daily life. Veronica is now a committed student, teacher, and translator for A Course in Miracles, and travels to share the message of the Course. She shares, "Since I was 16 years old, I have been translating events and workshops into Spanish, and I feel honored to share such a powerful message with the Spanish-speaking world. The Course continues to inspire and change my life, providing me with a north star to guide my thoughts. I am humbled to be of service so that others can hear the message through my voice." Veronica is the director of her own Interior Design firm, a sports lover, and a vegan gastronomy enthusiast. She has been married to her husband, Luis, for 10 years, and they have a beautiful Pit Bull named "Timoteo." You can learn more about Veronica's offerings on her Facebook page "Elige de Nuevo UCDM-Verónica," her Spotify podcasts "Despertando a la Realidad" and "Awakening to Truth," and her YouTube classes.
"The light in one awakens it in all. And when you see it in your brother, you are remembering for everyone."
(ACIM, T-21.I.10:6-7)