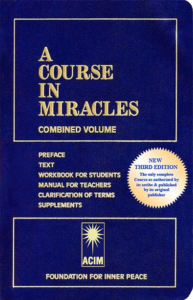 A Course in Miracles – often abbreviated ACIM or simply called the Course – is a complete self-study spiritual thought system. As a three-volume curriculum consisting of a Text, Workbook for Students, and Manual for Teachers, it teaches that the way to universal love and peace—or remembering God—is by undoing guilt through forgiving others. The Course thus focuses on the healing of relationships and making them holy. A Course in Miracles also emphasizes that it is but one version of the universal curriculum, of which there are "many thousands." Consequently, even though the language of the Course is that of traditional Christianity, it expresses a non-sectarian, non-denominational spirituality. A Course in Miracles, therefore, is a universal spiritual teaching, not a religion.
The Text presents the theory of the Course and has built into its study the development of the experience of forgiveness that is the Course's goal for the student. In this regard, A Course in Miracles states that "its goal for you is happiness and peace." (T-13.II.7:1) The Text also explains the basis for fear and guilt, and how they can be overcome through miracles, which are defined as maximal "expressions of love." The miracle is defined as the shift in perception from fear to love.
The Workbook for Students consists of 365 lessons, an exercise for each day of the year. This one-year training program begins the process of changing the student's mind and perception, though it is not intended to bring one's learning to completion. As stated in the Preface to the Course, "At the end, the reader is left in the hands of his or her own Internal Teacher, Who will direct all subsequent learning as He sees fit." (Pre: ix-x) You can study the Workbook's daily lessons in both text and audio in English; also available as text in Dutch, French, German, Italian, Portuguese and Spanish.
The Manual for Teachers is written in question-and-answer form and provides answers to some of the more likely questions a student might ask. It also includes clarification of a number of terms the Course uses, explaining them within the theoretical framework of the Text and for their practical application through the Workbook.
A Course in Miracles was "scribed" by Dr. Helen Schucman through a process of inner dictation that she identified as coming from Jesus. A clinical and research psychologist and tenured Associate Professor of Medical Psychology, she was assisted by Dr. William Thetford, her department head, who was also a tenured Professor of Medical Psychology at the Medical Center where they both worked.
What exactly, then, is A Course in Miracles? The summary from its Introduction, which appears on page one of the Text, is quite succinct and brief but describes its core teaching perfectly. It reads:
"This Course can therefore be summed up very simply in this way:

     Nothing real can be threatened.
     Nothing unreal exists.

Herein lies the peace of God." (T-In.1:1-8,2:1-4)
---
Read How It Came from the Preface of A Course in Miracles