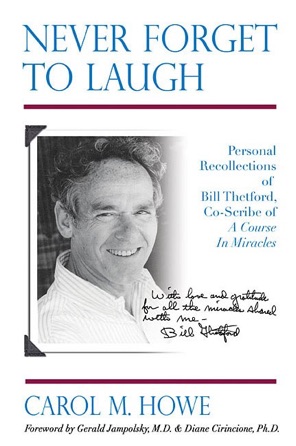 Never Forget to Laugh: Personal Recollections of Bill Thetford, Co-Scribe of A Course in Miracles
by Carol M. Howe
For the first time, an intimate portrait of the life and spiritual path of Bill Thetford, a brilliant and accomplished psychologist and co-scribe of A Course In Miracles.
As one of the world's foremost authorities on how the ego develops, Bill then provided a way—through ACIM—to release that ego, for himself and everyone. His life was transformed into a joyous one and his journey provides a proven, timeless guide for anyone who wishes to replace pain and grievances with grace and peace of mind.
For more information about the book, please visit NeverForgetToLaugh.com.
Carol Howe, author, teacher, counselor, and a student of A Course In Miracles for thirty-three years, was a close friend of Bill Thetford's. Widely known for her affirming warmth, compassionate sense of humor, and an exceptional ability to clarify spiritual principles, she brings an immediate and powerful practicality to ACIM, offering guidance and reassurance to all who seek happiness, security, and peace of mind.
Read Carol Howe's "Back Story" on the writing of this book.