Bridget Winter, Documentary Television Producer, reveals the extraordinary chain of events that in 1985 led her to the filming of the two-part film.
The Story of
A Course in Miracles


Part 1: "The Forgotten Song"
Part 2: "The Song Remembered"
---
---
My Years At The BBC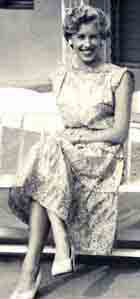 I started my television career with the BBC in 1965 (the same year the first Principles of Miracles came through Helen Schucman, and were typed out by Bill Thetford.)  I was dropped into Europe at the deep end, working with foreign crews, and was responsible for finding and filming all the people who were to contribute to a television series of thirteen fifty-minute parts on the years between 1918 (the end of the first world war) and 1933 (the year Hitler came to power in Germany). The series was called "The Lost Peace."
Politicians, economists, writers, academics, artists, entertainers, teachers,  doctors, broadcasters, soldiers, sportsmen, churchmen, shopkeepers, students, followers of Hitler, and those who resisted and lived to tell the tale … the research involved was enormous, and the filming schedule hectic. But when John Terraine, historian, and writer of the series, jumped ship to work on the life of Lord Mountbatten for Independent Television, and I found myself also script-writing and directing Sir Michael Redgrave and other actors for the narration, it became positively manic.
However, by the end of the series, I had won sufficient 'brownie points' for David Attenborough, the new Controller of BBC2 and a wonderful human being, to recommend me for the BBC Producer's Course.
In those days female producers were a rare breed. Certainly, life was never made easy for me, but I was privileged to work on subjects which ranged across the whole spectrum of human life, as diverse as (to name but a few):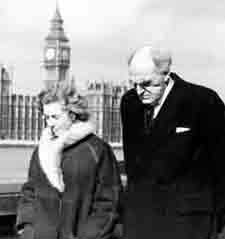 Pearl Fishing in Scotland, and German Resistance to Hitler;
The British Empire, and The Royal Family of Thailand;
The History of Europe, and Techniques of Marathon Running;
The Last of the Sailormen, and People in Conflict;
The Pushchair Revolution, and Lord Reith, founder of the BBC;
Cornish Legends, and A History of London's Bridges;
The Isle of Man and The Agonies of Agoraphobia;
The World of Stanley Holloway and Relapses of Recidivism;
Famous Walks by John Hillaby, and Sir Ralph Richardson at 80;
The Thames Barrier, and The Lifestyle of Mary Quant;
Setting up Small Businesses, and The Life and Times of Laurence Olivier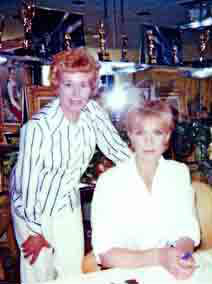 In all, as researcher/director, director/producer, or producer/executive producer, I was involved in over fifty major television documentaries of 50 to 90 minutes duration, and over eighty shorter programmes, each of around half an hour.
In the course of this work, I directed many, many people, professional and non-professional, including:
Julie Andrews, Sir John Betjeman, Claire Bloom, Michael Caine, Greer Garson,  Sir John Gielgud, Stewart Granger, Sir Peter Hall, Charlton Heston, Alan Lerner, Bernard Levin, Jonathan Miller, Sir John Mills, Malcolm Muggeridge, Sir Anthony Quayle, Anthony Quinn, Sir Michael Redgrave, Dame Flora Robson, Jean Simmons, Sir Peter Ustinov.
It now makes me smile to remember Gordon Watkins, Head of Department, asking at our first meeting "What is your specialty, Bridget?" I said "Life." He replied, "You won't last five years in the BBC!" I became a Senior Producer in 1974.
Getting to know my neighbours (which would lead me to the 
Course

):

In the Spring of 1975 (with, unbeknownst to me, the scribing of A Course in Miracles nearing completion), I decided I simply must make an effort to get to know my neighbours. I had lived in my flat for six years, with my only communication being 'Hello …  ' and 'Goodbye … ', as I rushed off to meet my latest deadline.  Further to this decision, I invited my nearest neighbour, Grace Brooks, in for coffee one Saturday morning. We were happily chatting when she suddenly became extremely agitated.  Flushed and near to tears, she described a woman (who lived in the apartment above her) being flung, bleeding, over her steering wheel, having just crashed her car.  People were shouting; a crowd was gathering; a police car stopped by; an ambulance eventually came … all the ingredients of a bad accident scene. – I thought my neighbour had 'lost it.'  I tried to calm her, still shaking with shock, then took her home. I was relieved to see her husband at their front door.

Several days later, an injured lady was brought home by ambulance and described what had happened.  The crash she was involved in was exactly that 'seen' by Grace Brooks – in the same place, on the same day, and at the same time we were having coffee on Saturday morning, 22nd February 1975.  When I discussed it with Grace later, she said she had had experiences like that before. However, she didn't understand what was going on, and they frightened her.  I said I had no real knowledge of such phenomena, but the little I was aware of smacked of charlatanism, and I wasn't interested.  On this occasion, however, it was obvious that something very extraordinary had happened in my own living room, and I simply couldn't ignore it.

I told Grace that apart from various telepathic instances, which I thought everyone experienced at some time or another (I had once left an important meeting because I 'knew' my mother was in trouble, to discover that she was in hospital with broken ribs, having fallen off a ladder),  the only person I knew of who seemed to have been involved with psychic phenomena was Hitler.
Reading "The Spear of Destiny" – another step …
"It's strange you should say that," said Grace, "because I happen to be reading a book which mentions that. It's called 'The Spear of Destiny.' It's about the spear reputed to have pierced the side of Christ on the cross. It's the story of the people through whose hands it passed down the centuries, including Hitler's."  Apparently, Hitler had a psychic experience when he first saw the spear in a museum in Vienna when he was a boy, and he knew he would one day possess it. "I'll lend you the book. I think you should read it."
I read the book and found it very interesting, if eminently challengeable. I thought that, although not in my sphere, it would make a fabulous feature film.
1975 passed, with many dramas at work, but none in the paranormal sphere. However, in order to find out what went on in Grace Brooks' mind, that Saturday morning in February, I had been reading a lot of books on the subject, and had visited several mediums, healers, and psychics, who were recommended on inquiry. I confess I was underwhelmed by most of them.
Then, at the end of April 1976, a Canadian, by the name of Allan Baker, was shown into my office. To this day, I'm not sure why; because he was an entrepreneur /film investment broker in the business of film distribution –  setting up and selling feature films, or films for television. I was a television producer, and not concerned with marketing at all.  Allan told me he had a couple of properties, for which he hoped to find a producer and a buyer.
While I tried to find suitable contacts for him, he suggested I should leave the BBC, and better myself financially by setting up my own company, producing Leon Uris' "Trinity" – to which he apparently had the rights – and indeed anything else I was dying to make, but couldn't within the BBC. I assured him I was happy where I was; that I did not consider the grass to be greener elsewhere. If he wanted a possible subject to invest in as a feature film, I urged him to read "The Spear of Destiny" by Trevor Ravenscroft.
After he read the book, Allan Baker said he was extremely interested. He was prepared to back it financially, for me to produce. His one condition was the approval of an expert and professor in matters paranormal at a New York University … I thought that somewhat odd.
Time passed and Allan could not reach the expert he sought.  Eventually, he tracked her down in California, only to be told, "Do not touch that subject with a ten-foot pole!"  He sounded most disconsolate when he telephoned me about it, though he had apparently accepted the advice without further discussion … which I found even odder.
"Her name is Judith Skutch"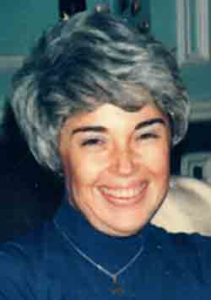 Over a year later, on Saturday morning, 24th September, 1977, my (by now) friend, and neighbour, Grace Brooks, came in for coffee, and asked me if I could remember the name of the lady who told Allan Baker that "The Spear of Destiny" should not be touched with a barge pole – or words to that effect.-  I said, "Yes, her name is Judith Skutch."  Grace said she thought that name sounded familiar and did I know she was in London, to talk about "A Course in Miracles?"
"A what? I said,"A Course in Miracles?  Who the hell does she think she is?  First, she says we shouldn't touch 'The Spear of Destiny' with a ten-foot pole – without having read a word of the book, or knowing the first thing about me. Then she comes to London to give "A Course in Miracles!" Who on earth does she think she is?  Mary Magdalene?"
Grace thought I ought to calm down a bit, and go and see what it was all about.
"Not on your Nelly," I said in good old English slang. "Anyway, where will she be, St Paul's Cathedral or Westminster Abbey?!"
"No", said Grace, ignoring my heavy sarcasm. "Kensington Central Library, at two o'clock this afternoon."
"Well, I'm not going.  Wild horses won't get me there." …
The outcome of the rest of our exchanges was that I was dragged kicking and screaming into central London, on a very wet Saturday afternoon, to an assignation I wanted like a hole in the head. There was nowhere to park, and we were late.
"OK.," I said. "That's it.  I'm going home."
"OH no you're not," said Grace, with a determination unlike her.
Just as she said that a parking place appeared, and feeling singularly stupid, I parked, followed Grace into the building, and crept into the back of the hall where the meeting was already underway. It was a large hall, and it seemed an eternity before we were seated.  On the platform were three people, two men, and a woman. I cannot tell you what the audience was like; whether the hall was packed or not; for what happened then was weird by any standards.
Two of the trio, Professor Bill Thetford, and Judith Skutch, were describing what A Course in Miracles is, and how it came about. They were joined in this by Dr. Gerald Jampolsky.
As I listened to Judith and Bill, my intense irritation dissolved, as if into a warm ocean, without my realizing it. I sat, deeply absorbed in another world, overwhelmed by the content of the story, and enveloped in the extraordinary warmth and blazing sincerity of these people.
At the end of their session, I was still a bit mesmerized. In some sort of daze, I wandered onto the stage to buy the three books of the Course, hoping, too, to meet the speakers.  I met with Doctor Jampolsky first, and he was very warm, friendly, and effusive about the effects the Course, had had on him and on his work as a doctor.
Minutes later, I came face to face with Professor Bill Thetford and Judith Skutch, and I received a Big Jolt.  I knew them. The impact was immediate. There was no question in my mind that I knew them, and they, it turned out later, felt the same way about me; but where on earth had we met?
Meeting Judith Skutch, Bill Thetford, and Jerry Jampolsky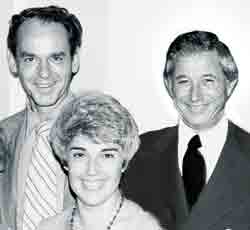 As far as a film on "The Spear of Destiny" was concerned, it no longer appeared important. Judith Skutch was nonchalant about her role in its rejection. She was surprised that Allan Baker had even sought her evaluation of it.  … And that, it seemed, was that …  There was no further discussion about it. It had served its purpose in the broader scheme of things – at least, that was the reaction of Grace Brooks, as we drove home that evening. It was, we both agreed, all very strange.
However, the most wonderful part was my meeting with Judy and Bill. How our relationship first began is still a mystery, but back in 1977, it was like seeing a loving brother and sister again, having lived apart for far too long.  We needed to fill in the gaps.
We managed to meet on three occasions before the trio left London, and we compared diaries for future possibilities. It emerged that I had quite a lot of filming to do in America in the following few years, and the Course brought them to London on several occasions. So with faxing and phoning in between times, we kept in close touch. That was just as well, for at first, I found the terminology of the Course downright infuriating sometimes. But for Judy and Bill, the books (the Course was published in three separate volumes at the time) might often have found themselves flung out of windows!  Because of this, I decided to tackle the Course Workbook before reading anything else.  I started it on January 1st, 1978 … and what a year that turned out to be!
On New Year's Eve, I watched a demonstration of Psychic Art by the Brazilian, Louis Antonio Gasparetto. He was in London for only six days, and even though it was a National Holiday, I was determined to capture this extraordinary phenomenon on film. It was an extension of my new interest in psychic phenomena, sparked by Grace Brooks in February 1975.  Whenever possible, I was gathering world-wide information for a possible 13-part series called "Out Of Our Minds", which I would eventually put to the BBC for consideration. (It was later rejected for being ahead of its time.)
Miracles Can Happen: Meeting His Majesty King Bhumibhol Aduladej and Her Majesty Queen Sirikit of Thailand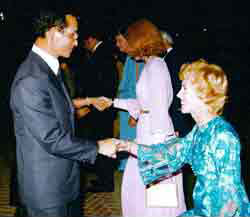 In the first six months of 1978, I made five other films, whilst also following an extraordinary string of "coincidences" which lead to my having a private dinner with His Majesty King Bhumibhol Aduladej, and Her Majesty Queen Sirikit of Thailand, on 27th August, 1978, in their palace at Narathiwat in Southern Thailand, near the border with Malaysia.  I had been watching them at work in the afternoon in a local village, where the King, kneeling on the ground with his maps, listened and discussed the villagers' problems. Volunteer doctors dispensed medicines to the sick; welfare and craft projects were overseen; and a new dam, initiated by the King, was being surveyed by expert engineers. It was an amazing scene, and I was riveted.
Unexpectedly and very quietly, the Queen came over to me, took me by the hand, and led me to see two children with an endemic eye disease.  She explained how they, and their families, would be taken to Bangkok in the care of palace officials until they were cured, and then returned to their village.  We discussed the many problems of caring for people in the border areas, especially when they were being infiltrated by militants.  And then we just got chatting, woman to woman, and it transpired we had many mutual interests, including the paranormal, with which Queen Sirikit was fascinated.
Just as I was asking about Buddhism and the strength it gave them for their work, the King moved away, and the long retinue followed.  On the way back to the Palace, officials made it clear to me that it was just 'not done' to have a long audience with Her Majesty (we must have been talking for about half an hour), without it first having been cleared through the appropriate channels. Imagine, then, the shock-horror when Lord Chamberlain later announced that Their Majesties would like me to dine with them at 8.30pm!
When we met again, Queen Sirikit explained that she wanted the King to tell me about Buddhism, because, as Head of Religion, he was the expert.  As we ate, and King Bhumibhol talked about Buddhism, what became increasingly obvious, and really very striking, was the seeming number of similarities between the concepts he was describing and those I was studying in A Course in Miracles.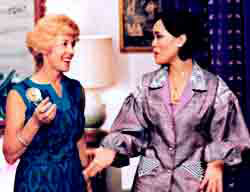 However, what I shall never forget from the conversation that flowed on that remarkable evening was the Queen saying, "You know, Bridget, we love you. We feel we know you." As I heard myself replying "I feel the same way"- and meaning it with all my heart – I was reminded of my meeting with Bill Thetford and Judy Skutch the year before.  It was a dazzling demonstration that miracles can happen, even between kings and commoners who live on opposite ends of the earth.
As Bill Thetford said, "A miracle is the love that sustains the universe."  It is simply "The shift in perception that removes the barriers, or obstacles to our awareness of love's presence in our lives." Parts 1 and 2 of "Soul of a Nation" – "The Royal Family of Thailand" were transmitted by the BBC in the first week of January 1980.
Discussion of a film of the
Course

begins

From 1981 to 1984 I had cause to be filming in the USA for various programmes I was making. Happily, I was occasionally able to see Judy and her partner Whit Whitson, Bill Thetford, Ken Wapnick, Jerry Jampolsky, Bob Skutch and their friends and families.

For four years after the Course was first published in 1975, Judy and Bill Thetford had been following a demanding schedule, giving talks to the growing crowds of people who wanted to hear how the Course came and who were the people involved. They traveled far and wide to try to satisfy the demand, but the more the Course became known, the more insatiable the appetite for the talks. By late 1980, Judy was getting exhausted. Inevitably, thoughts turned to other methods of communication.  Various people, including myself, suggested a film should be made, and indeed a video was made, but it was not overly successful.

The question of making another film came up again and again. I always made it clear I was not in the running for it. My father had died in January 1981, and I was responsible for my mother, as the rest of my family were far flung from London.  In addition to which, not only could I not visualize, in film terms, such abstract concepts as A Course in Miracles, I was also mightily busy and wedded to my work for the BBC. Judy's answer was always, "We can wait because you're supposed to do it."  Bill Thetford added to this by saying he would only take part in a film if I made it.

In late 1984 I was in California, filming for the three "Olivier" programmes I was making. Judy, in one of her futuristic forays, told me "You'll be making the film next Spring." I said there was absolutely no chance of that. For a start, the BBC would not give me that sort of time off, and I couldn't leave my mother for any length of time, as she was not very fit, and would not travel.

"Please get someone else to do it, Judy; there are loads of film-makers in California, for heaven's sake!"

"We'll see," said Judy. … And I surely did see.
My mother died on 11th January, 1985.
My first "Olivier" programme was transmitted on 22nd February; the second on 1st March, and the third on 8th March, 1985.
On 15th March, I had drinks with the Head of my Department at the BBC, who expressed the BBC's congratulations. He offered me three months "Grace Leave" for my work and the fact that I had been with the BBC for 21 years.
And who rang up that night to say so you are coming, then?" … Judy Skutch!!
I threw my hands in the air in resignation. "OK, God. You win!"
Filming begins
It was exactly ten years since I'd decided to get to know my neighbours and something very extraordinary happened in my living room. I had certainly learnt a few lessons since meeting Grace Brooks; but that seemed to be the start of this journey.
I arrived in Tiburon on Thursday, 7th June 1985, to embark on my three months 'Grace Leave' venture with Judy Skutch and Bill Thetford, to make a film about the Course, for love. I felt certain my Mother had 'moved on' to allow me to do this. In my heart, I dedicated the unmade work to her and vowed to complete it.
"The Story of A Course in Miracles" emerged as a two-part film: "The Forgotten Song" and "The Song Remembered."- The finished work was viewed in San Francisco on Valentine's Day, 14th February 1987. Bill Thetford died the following year, on Monday, July 4, 1988.  The film of "The Story of A Course in Miracles" was his testament. It had taken over twenty months to complete my commitment.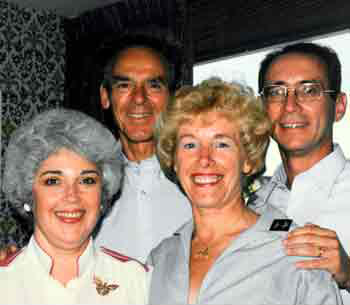 ---
---
Copyrighted material. All rights reserved. Used with permission.