Celebrating the Semicentennial of the Scribing of A Course in Miracles (1965-2015)
We have recently uncovered two snippets of Dr. Helen Schucman's voice from a cassette tape made in December, 1976 in Durham, North Carolina. They have been carefully restored and although scratchy, the transcript is presented to make Helen's voice more understandable. These tiny portions were rescued from a longer inaudible tape of questions and answers about the Course. We hope you enjoy listening to these two memories of Helen.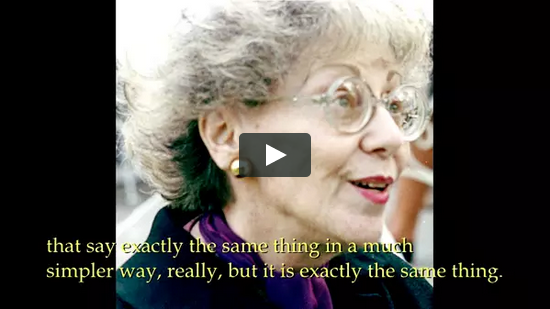 Transcript: "It does have a special readership, the way every other form has. And there are other forms for whatever place you are in the world this far. I do agree, it's quite a literary thing, and it does require a certain background, but you know people with literary backgrounds can have a break, too! Let's not be prejudiced against it. There are many things that I have subsequently seen that say exactly the same thing in a much simpler way, really, but it is exactly the same thing. I happen to like this style, because, from a literary viewpoint, I'm kind of a snob. But there are many of us and you know salvation shouldn't really cut us down simply because we are snobs!"
View on Vimeo
---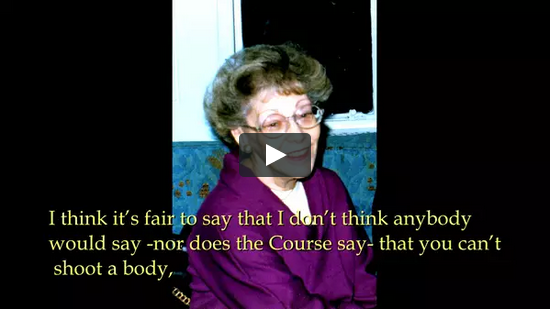 Transcript: "I think it's fair to say that I don't think anybody would say –nor does the Course say– that you can't shoot a body, nor did it ever say that Jesus' body wasn't crucified. It's obvious that it was. But this may not be the reality of God. I think that's where the distinction is. The illusion is what you and I make, or the world as we see it now – but reality is what God made. Reality does not change. It's a constant, changeless state. It isn't born and it doesn't die. And it exists apart from all of the things that we see and we believe and that we think. It's not our world."
View on Vimeo
Return to the list of twelve articles on the "Celebrating the Semi-Centennial of the Scribing of ACIM" page.