Upcoming Webinars
Thursday, January 21, 2021, 2:00 pm PST; 5:00 pm EST – A Webinar to Honor Dr. Jerry Jampolsky
– REGISTER NOW
Convert the time to your time zone here.
---
Sign up to receive information regarding upcoming online events.
Join with hundreds of people around the world in our online Let's Discuss ACIM webinars.
---
Prior Events & Recordings
We hope you enjoy these recordings.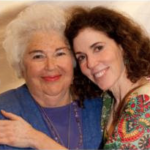 May 20, 2019
Guests: Judith Skutch Whitson, Founder and Chairwoman of the Foundation and her daughter; Tamara Morgan, Co-president; Foundation for Inner Peace The topic of this Foundation for Inner Peace's Let's Discuss ACIM webinar: A Mother and Daughter's Journey ...
April 18, 2019
Guests: Judith Skutch Whitson, Founder; Tamara Morgan, and Dr. Bob Rosenthal, Co-presidents; Foundation for Inner Peace The topic of the Foundation for Inner Peace's first Let's Discuss ACIM webinar: Looking Through the Lens of Forgiveness