기적수업

---
Korean Translators: Junghee Koo and Jihwa Kim
Junghee reading the Introduction to the
Course
in Korean
Show English text of the Introduction
This is a course in miracles. It is a required course. Only the time you take it is voluntary. Free will does not mean that you can establish the curriculum. It means only that you can elect what you want to take at a given time. The course does not aim at teaching the meaning of love, for that is beyond what can be taught. It does aim, however, at removing the blocks to the awareness of love's presence, which is your natural inheritance. The opposite of love is fear, but what is all-encompassing can have no opposite.
This course can therefore be summed up very simply in this way: Nothing real can be threatened. Nothing unreal exists. Herein lies the peace of God.
---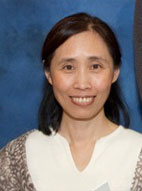 I was born in 1962 into a Catholic family and was baptized as an infant. I attended my first Communion at the age of eight, received sacrament of confirmation at eleven, but after entering middle school I became distant from the church. I attended a Christian high school afterwards, and as I learned more and more about the bible there, my denial and indifference towards God's existence developed into an active sense of opposition. And that emotion prevailed throughout my teen years.
It was when I entered university I started to question my version of God. I had no intention of going to a Christian university, but because it was a well-renowned university my father's idea was that I should attend it. Meeting the minister of the school church was quite a surprise to me. I had never seen anyone who was so peaceful, so full of certainty. What I thought was God was full of hatred and vengeance. The God he knows, I thought, must be a different God from the one I was thinking of. I wondered, maybe I was wrong about Him.
After seeing the minister, I began to pray on a regular basis. "God, please let me know who You are." After a year of prayer, I began to experience Who He truly is.
Years passed on. I was walking home one day after picking up a book from the library. When I got home, instead of the book I had signed out, I found sitting in my bag a book called Accept this Gift. I started reading it, and finished it in one sitting. I immediately recognized the book was telling the truth. Its message was elaborating precisely the experiences I had some years back.
A few years after Accept this Gift, in 1998, my family moved to Canada. Translating A Course in Miracles became my "full-time preoccupation" after my husband's passing of cancer, in 2003. Perhaps it was my way of escaping the pain and sadness that were overwhelming my life at the time. Whatever my personal intention was, the Holy Spirit has used what He can for the good of all.
After a while though, I had translated quite a significant portion of the Course, and was hoping to share the material with other Korean students. I wanted to make sure the material was translated correctly, and thought it would be best to look for a guide who thoroughly understands the message of the Course. I had no doubt Kenneth Wapnick would be the best guide for understanding the Course's teachings.
Working as the official translator of A Course in Miracles itself was quite an experience. It was a heavy responsibility I had not anticipated, and was not an easy going process. There indeed were trying times of doubt, and once in a while I felt it was a mistake on Jesus' part I was selected for this task. Yet the Course says, "Yours (your judgment) may be so distorted that you believe I was mistaken in choosing you. I assure you this is a mistake of your ego. Do not mistake it for humility." (T-4.IV.10.5) I realized, I was merely attempting to exclude myself from the fact that with God all things are possible. And surely, there were wonderful people who helped along the way.
I would like to express my sincere gratitude to Kenneth Wapnick who guided me, my son Simon Kim who assisted throughout the translation work, Judith and William Whitson who supported the publication. I along with my son Simon are truly grateful the wonderful message of the Course can now be read in Korean as well.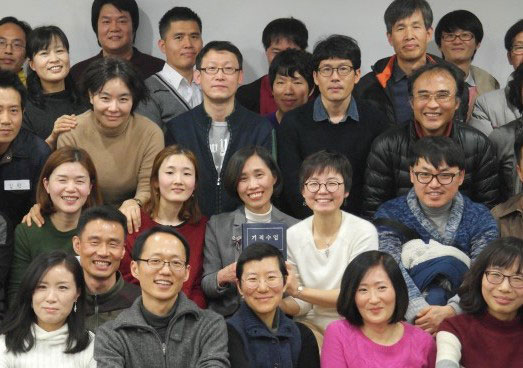 ---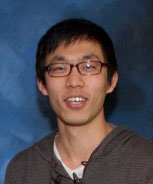 I was born in the city of Anyang, Korea, in 1987. Our family moved to Canada in 1998, when I was 11 years old. I was introduced to A Course in Miracles by my mother, Junghee Kim. My initial reaction to the Course was not so different from Jesus' description of tendencies some students show when they begin their journey back home; find it to be a wonderful theory perhaps, but quite irrelevant to my everyday life. Such was my opinion of the Course for many years after my first encounter.
Despite my ambivalent feelings for A Course in Miracles, I could not completely forget about it. Starting from when I was in grade 3, I regularly had experiences that some psychologists define as "feelings of unreality," where I felt like I was not really here, but watching the bodies interact from a third-person perspective. As a child I was quite scared of these experiences, and every time it occurred I had to desperately fumble around for evidence that confirms my surrounding world was still real. One of the things I would do is to speak, say anything, so that I could be sure my body was still my body, controlled by me. By the time I was introduced to the Course however, I had grown fairly accustomed to these experiences. And so when the Course said, "this world is not real" I was not surprised, but profoundly intrigued. I wondered if this book could explain to me what has been happening all these years. I had to continue reading.
My study and translation process of the Course was far from peaceful. The more I translated and studied the Course the more distance I felt from virtually everyone I knew who were, in my point of view, faithfully devoted to meeting their ego needs. I began to resent my own ego needs as well. There were even times when I would be upset that I had to drink water and eat food to sustain my body. In between such draining phases were moments when I felt everything was incredibly lovely. I began to question my sanity.
It was during the final stages of the translation work that such fluctuations between extremes gradually simmered down. Beginning in 2014 A Course in Miracles literally began to answer my daily problems, as if to give an answer to my initial opinion of the book. When I was concerned or upset about something I would open up a random page of the Course, and the first sentence that came into sight would be directly relevant to my problem. Since the Course's message is universally applicable it was very possible that no matter what page I opened up the content would have always had something to do with my concern at the time. Yet for me, it felt as if the book was directly communicating with me. At times I even felt there was a being that already knew I would interpret the phenomenon this way, who was already aware that this was the best way to communicate with me in my current state of mind. I could never prove this materialistically. It was an intuitive feeling, but I found great comfort in it.
So when someone asks how the Korean version of A Course in Miracles was translated, I would like to tell them that it began with my mother, assisted by me, and completed by Jesus. And when someone asks how will I live now that I have completed the translation work, I would like to tell them that I will live as Jesus did, who lives in me.
---
The Korean translation of the Combined Volume, Third Edition of A Course in Miracles, consists of the Preface, Text, Workbook for Students, Manual for Teachers, Clarification of Terms and the two
Supplements
: "
Psychotherapy: Purpose, Process and Practice
," and "
The Song of Prayer: Prayer, Forgiveness, Healing
," extensions of
A Course in Miracles
principles.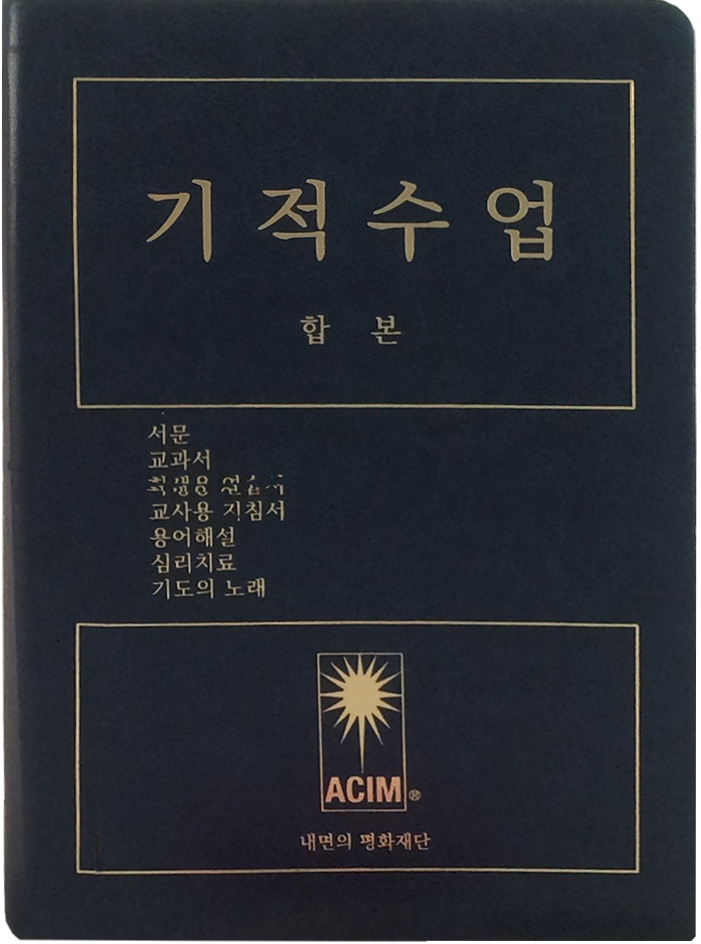 기적수업
Korean Softcover Edition

Where available, there are now links for purchasing translated editions in your country. To purchase a translated edition for shipping within the USA, or if you have any other questions,
contact us
.
---
Purchase this Korean edition directly from Korea here..
---