Curs de Miracole

---
Romanian Translation Team Leader: Simona Făgărăşanu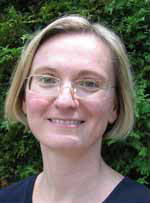 I was born in Romania in 1967. As far back as I can remember I was preoccupied with the search for a faith that spoke to me, a philosophical system that could explain life and death, the universe and people, without too many flaws and inconsistencies. When I encountered the Course in 1988, my understanding of its complex message was fairly poor, but the "language" of the Course spoke to me and I could see no flaws, no inconsistencies in its pages. I went through the lessons as best I could, but at the end of that year, overwhelmed and with no guidance, I put the book aside and focused on more worldly things.
In 1990 I finished college at the top of my class and stayed to teach English linguistics at the same university I had just graduated from – Universitatea de Vest in Timişoara. Two years later I won a scholarship to study for a Master's degree in linguistics with Cambridge University in England; a year later, I started work on a PhD in the history of linguistics with the same university. My old copy of A Course in Miracles traveled to Cambridge with me, in the hope that I could find a supervisor, a college, a department that would support a PhD thesis on it. When that turned out not to be possible, I settled on St. Augustine's writings on language as the happiest compromise I was able to find between the Course and the Department of Linguistics!
In 1996 I got married and decided to settle in England. When the PhD was complete later that year, I continued my work as a teacher, translator and interpreter. During that time I started re-reading the Course and was surprised to find a lot of clarity and an openness towards its message I had not reached before. As 2000 approached, it was becoming clearer to me that I needed to dedicate my full attention to the Course and that the best way for me to do that was to become its translator.
In January 2001, having passed the test of translating Chapter 17, I traveled to Roscoe to discuss with Dr. Kenneth Wapnick the possibility of translating the whole book and to receive his "blessing." The following six years were dedicated to the effort of understanding and translating the most impossible text I had come across, six years of peace and calm, turmoil and frustration, depending on how well I felt my work was going at the time.
I owe a huge debt of gratitude to my husband, Eoin, for his dedication to my work on this translation, for tending to all chores and minding our little Luca while I was at my desk, for offering to help every time I had questions, though he was often as baffled as I was by some "strange" phrase or some "uncanny" wording; to Dr. Kenneth Wapnick for always answering so promptly my long lists of questions; to Dr. William Whitson for his hard work getting the translation published; to Toni Kühn for his suggestions on the first chapter and for introducing me to the Course back in 1988.
My own work of understanding the content of the Course and of applying it to every aspect of my life is an ongoing process. Most times I falter, but for the odd instant when I succeed I would always be grateful to the small inner voice reminding me that I truly want to go home.
Simona Făgărăşanu
Mequon (U.S.A.),
July 2008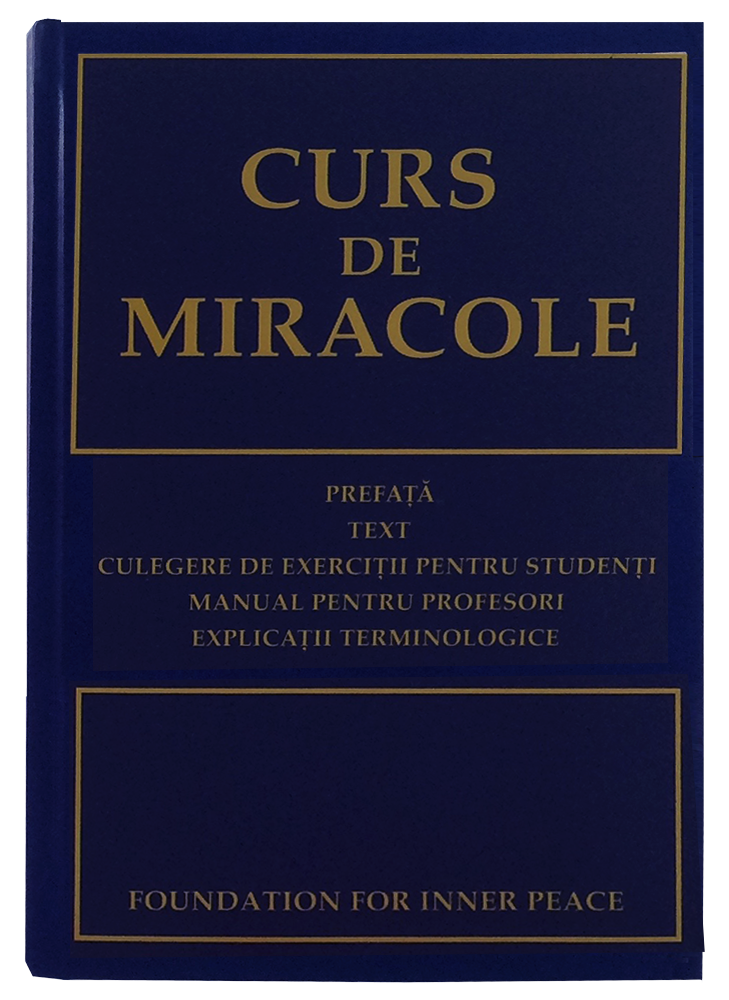 Curs de Miracole
Romanian Softcover Edition

Where available, there are now links for purchasing translated editions in your country. To purchase a translated edition for shipping within the USA, or if you have any other questions,
contact us
.
---