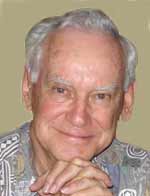 Beginning in 1982, at the genesis of the translation program of the Foundation for Inner Peace, management of the translations had been a partnership between Dr. William W. Whitson (pictured on left), representing the Foundation for Inner Peace, and Dr. Kenneth Wapnick (pictured on right), representing the Foundation for A Course in Miracles. As time went by, Dr. Whitson assumed primary responsibility for selecting and financing translators and arranging for publication while Dr. Wapnick was responsible for teaching and training all the translators in the meaning of the Course. Together, those two people guided the evolution of over two dozen translations, each translator requiring between five and ten years to complete the work. This collaboration continued until Dr. Kenneth Wapnick passed away December 27, 2013. Dr. William Whitson passed away February 8, 2018. The Translation Program continues under the direction of the Foundation for Inner Peace.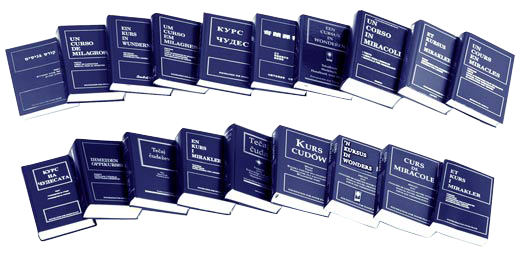 The sequence of publication of the translations:
1992: SPANISH (UN CURSO DE MILAGROS)
1994: GERMAN (EIN KURS IN WUNDERN)
1995: PORTUGUESE (UM CURSO EM MILAGRES)
1996: HEBREW (קורס בניסים)
1997: CHINESE TRADITIONAL (個奇蹟課程)
1997: RUSSIAN (KYPC ЧУДEC)
1999: DUTCH (EEN CURSUS IN WONDEREN)
1999: ITALIAN (UN CORSO IN MIRACOLI)
2001: DANISH (ET KURSUS I MIRAKLER)
2002: FINNISH (IHMEIDEN OPPIKURSSI)
2003: SLOVENE (Tečaj čudežev)
2004: SWEDISH (EN KURS I MIRAKLER)
2005: CROATIAN (Tečaj čuda)
2005: FRENCH (UN COURS EN MIRACLES)
2006: AFRIKAANS ('N KURSUS IN WONDERS) e-Book
2006: BULGARIAN (KYPC HA ЧYΠECATA)
2007: POLISH (KURS CUDÓW)
2008: ROMANIAN (Curs de Miracole)
2010: NORWEGIAN (ET KURS I MIRAKLER)
2011: CHINESE SIMPLIFIED (奇迹课程)
2012: CZECH (Kurz zázraků)
2013: HUNGARIAN (A CSODÁK TANÍTÁSA)
2014: JAPANESE (奇跡講座)
2014: PORTUGUESE 2nd Ed. in compliance with N.O.D. (UCEM)
2015: KOREAN (기적수업)
2015: GREEK (ΕΝΑ ΜΑΘΗΜΑ ΣΤΑ ΘΑΥΜΑΤΑ)
2016: ESTONIAN (Kursus Imetegudes)
2018: RUSSIAN revised (KYPC ЧУДEC)
2018: SPANISH revised (UN CURSO DE MILAGROS)
2019: TURKISH (MUCİZELER KURSU – TÜM CİLTLER) e-Book

---

See also the Foundation for Inner Peace – Timeline.